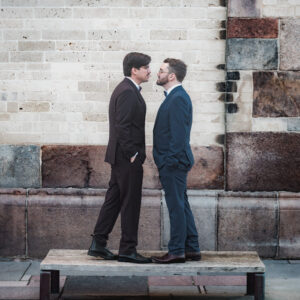 Denmark is a popular destination for couples from all over the world looking to get married. The country is known for its efficient and streamlined process for wedding planning, making it a top choice for foreign nationals who may otherwise have to go through a long and complicated process in their home countries.
But Denmark is also a highly welcoming and gay-friendly destination, making it a perfect choice for same-sex couples looking to tie the knot. Same-sex couples in Denmark enjoy the same rights as heterosexual couples when it comes to getting married, and are able to legally wed in the same way as any other couple.
As a wedding photographer in Denmark, I have had the privilege of working with all sorts of couples, including same-sex couples. I understand that each couple is unique and has their own preferences and wishes for their wedding day. Whether you are an out and proud couple looking to celebrate your love with the world, or a more private couple who wishes to keep your wedding and photos intimate, I am here to capture your special day in a way that is true to you.
I believe that love is love, and I am honored to be a part of any couple's special day, regardless of their sexual orientation. My goal is to create beautiful and timeless photographs that truly capture the love and connection between each couple.
If you are a same-sex couple planning your wedding in Denmark, I would be delighted to work with you to create stunning and meaningful photos that will be treasured for a lifetime. Reach out to me today to discuss how I can help make your special day even more memorable.